Oct 06, 2020
A private automatic branch exchange system is a business-level telephone network used for automated telephone exchange services like employee extension, to attend and route calls to various departments. PABX System Installation helps in offering services like call conferencing, extension dialing, after hour settings to route late hour calls, customers waiting for queues, hold music, etc. Techno Edge Systems in Dubai is the market leader in installing PABX systems for your organization.
A proper PABX system is important for a business through which employees communicate with each other for a better understanding. PABX system also allows a business to manage multiple calls with outsiders that are connected to a public switched telephone system. Hence a proper installation is required which can be done by partnering with expert service providers like Techno Edge Systems in Dubai.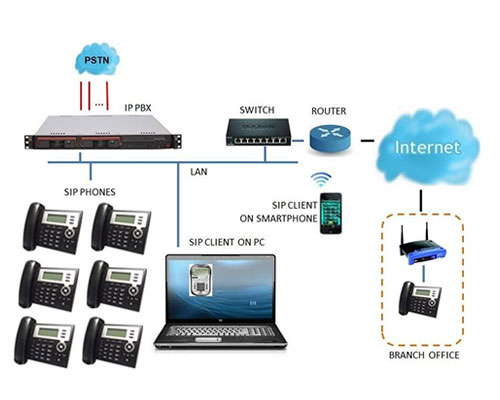 Features of a proper PABX system:
• Voicemail to email service: The PABX system enables the user to convert the voicemails audio file and send them to emails.
• Auto-attendant service: By using the PABX system one can direct your customers to the required department to have their queries cleared.
• On hold music: Music on hold is another feature of a properly installed PABX system that plays hold music while the customers are waiting rather than being silent. This engages the clients and helps in waiting until the queue is cleared.
• Call Forwarding and call recording: This helps the business to forward and record the calls when unattended and play them for future references.
There are three types of PABX system :
• Analog PABX: This is the traditional type of phone system which uses copper wiring for using voice and Fax systems.
• Digital PABX: This system uses VoIP which uses the internet to transfer voice and video communications.
• Cloud Hosted PABX: This is the advanced version of the Digital PABX system and is extensively used in today's business world. It enables faster and clearer communication with the use of the internet.
Techno Edge Systems are the leading PABX installation expert partner that does this for your business at budget-friendly pricing. We take the right precautions which do not allow any breaches of the information as Cloud PABX is vulnerable to security breaches. We provide after installation support round the clock in order to serve our clients better. We communicate with our clients and are transparent with no hidden costs and allow you to save your hard-earned money.
Visit our website www.pabxinstallationdubai.ae for a crisp and clear communication for your business.